Know Your Order's Status
After placing any kind of online order, we all want to check the status of that order. When it comes to your TRICARE® Pharmacy Home Delivery order it's even more important to be able to know where the order is and when it will arrive at your home. We kept this in mind when making enhancements to www.Express-Scripts.com/TRICARE.
More detailed Order Status
Expect a more detailed and easy to navigate status page to help you stay informed of your orders progress:
Expanded message details include the date we received your order, the expiration date of the prescription, quantity, days' supply and refills remaining
If your order is cancelled for some reason, a detailed message will be provided explaining the why it was cancelled
Automated messaging that includes order status and estimated ship information
All in one place
You can now view your order details, including estimated ship date, order refills and track your shipment all from the order status page of both the mobile app and www.Express-Scripts.com/TRICARE.
By clicking View Details from the Order Status page you can easily view enhanced order status information including:
Date order was received
Prescription expiration date
Refills remaining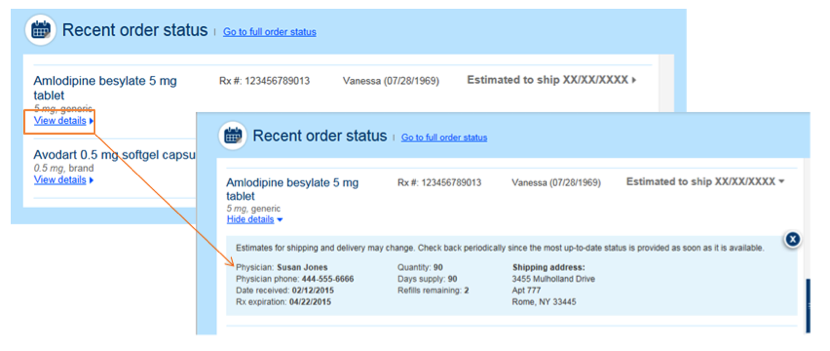 At Express Scripts we are continuously striving to provide you with the best TRICARE Pharmacy Home Delivery experience possible. Our goal is to provide easy, fast and convenient access to your prescription information. Logon to www.Express-Scripts.com/TRICARE today!
Sign in to access your account
Helpful Links