Save with home delivery from
Start now! Register today and let the Express Scripts PharmacySM take on your to-do list — no more errands to run, no more lines to stand in, and no refill dates to track — plus free standard shipping to your home.
Register now
We're always within reach.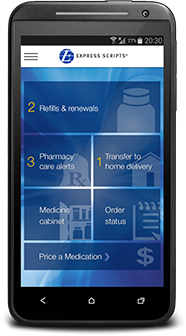 Manage your medicine anytime, anywhere with the Express Scripts mobile app. Find us on your favorite device and:
Order refills and renewals with just a click, then get real-time status updates
Compare prices at local pharmacies with Price a Medicine
Find out how much you can save with home delivery