Welcome
With the Express Scripts mobile app, managing your medication is a snap!

You can view orders, check drug interactions or even find the closest retail pharmacy in seconds, so you can keep track, keep on schedule and keep feeling good – anytime, anywhere.

Take the tour by clicking "Start" or any feature on the phone to your left. Be sure to click "Menu" icon to see all of our app's great features!

Start
My Rx Choices
View lower-cost prescription options available under your plan and discuss them with your doctor- while still in the doctor's office.
Medicine Cabinet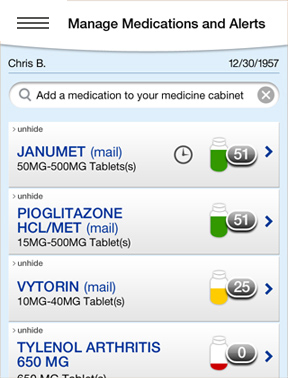 View your medications, set reminders to take or reorder them and get personalized safety alerts if there is a risk of a medication-related safety issue
Order Status
On its way? Just swipe the screen with your finger to track your home delivery prescription order status.
Locate a Pharmacy
Use your current location or enter a zip code to search for the nearest in-network, preferred retail pharmacies, view contact information and access directions.
Transfer To Home Delivery
Save the runaround (and maybe some money) on prescriptions you take on an ongoing basis.
Claims and Balances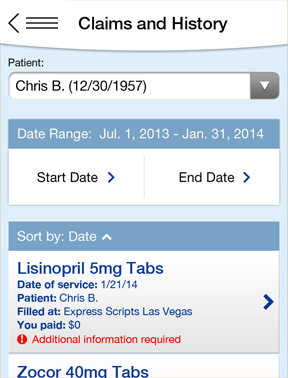 View your past prescription activity and payment details.
Price a Medication
Compare drug prices for home delivery and multiple local retail pharmacies.
Pharmacy care alerts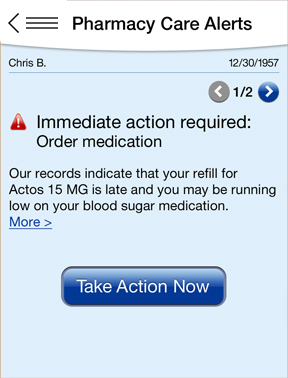 Get personalized alerts to help make sure you're following your doctor's prescribed treatment plan.
Refills and renewals†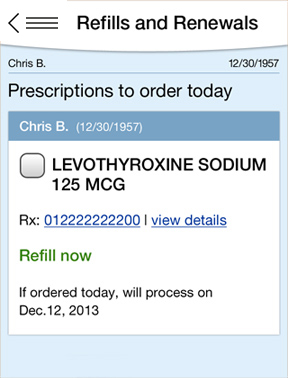 Running low? One touch and you're good to go. Get home delivery refills right to your door -- right here.
Virtual member ID card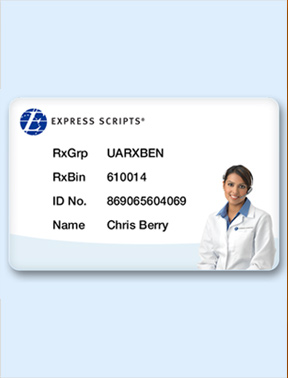 Forgot your wallet? No problem. If you've got your device, you've got your ID.
Drug information
Search detailed drug information for potential side effects, interactions, images and more.
*
*Also for all BlackBerry devices running OS 10.3 and later.